Anime gathering, organized by Swinburne Anime and Manga Society (SAMS) was held successfully tonight. There are some non Swinburne students who joined the gathering tonight. And I'm glad that SAMS has did the job well this time...

The gathering was started about 7.30pm. Everyone was sitting on their seat, and chatting with their friends. For me, I have meet my old school mate, who was the same table with me.


Everyone was waiting to start



The first activity tonight was Ice Breaking. It's about the same as Treasure Hunting, mean while you've to talk to someone that you do not know to ask for help. We had collected most of the things which are stated in the list. But there has no winner at all...

After that, it was the dinner time. The food was delicious. I can say, well done, SAMS!
There was a performance between the guy after our dinner. They were arguing about the good things about their Light Saber, and Katana. It was quite fun and interesting.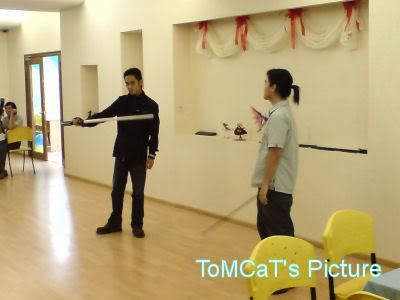 Arguing on their weapon



Well, then there was a small forum talk about Anime and Manga here. Several people were chosen and have a small talk about anime and manga. But, it was end up with a debate... -.-"
Anyway, it was interesting, and attracted most of the audience tonight.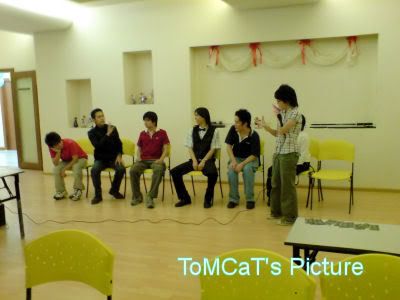 Anime VS Manga
Left side was the supporter of Anime. Right side was the supporter of Manga.
Rain was the middle man.



Next, the maids and butlers were choose several audience who full fill the requirement of the paper that they had picked up. And then, all of the audience were asked to dance on Hare Hare Yukai.


After dancing, every selected audience were given 2 movie ticket, including me... XD
Then, the gathering has reach to the end.

Ok, that's all...
MAY post more about this soon. XD
Thanks for reading and support here.